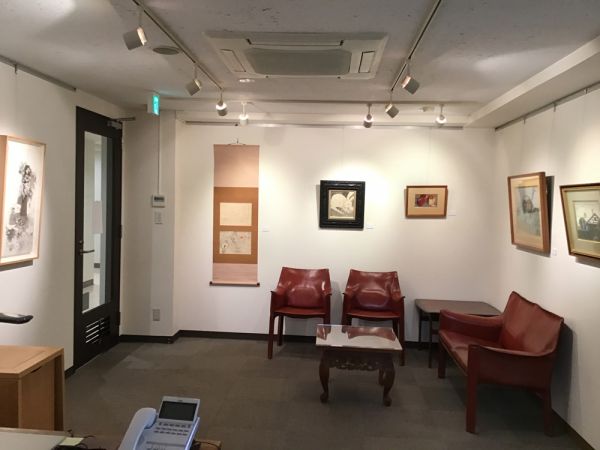 Gallery Murakoshi, since its establishment in1956 at the 8 chome of Namiki-dori Ginza, for more than 60 years, have been a commercial gallery dealing with modern and contemporary Japanese style paintings. The founder Noburu Murakoshi was born in Yokohama, studied and practiced at a long established art dealer of Edo period paintings and calligraphy. After the WW2, Noburu Murakoshi dealt with fine Japanese artists, such as Kobayashi Kokei, Ogura Yuki, Yamamoto Kyujin, Takayama Tatsuo. At the same time, he actively introduced  young talented artists of his generation to the world, such as Yokoyama Misao, Ishimoto Sho, Kayama Matazo and Hirayama Ikuo. What these artists have in common is that their techniques lies on the knowledge of the classics.
In 2005, Mihoko Sakurai, the daughter of Noburu Murakoshi, inherited the gallery, and since, Gallery Murakoshi has been dealing with various types of paintings as well as young contemporary artists.
Of course, the gallery still deal and evaluate prestige art works. Please contact us if you need any consultation.
Although the collectors' choice of taste varies and the art market of Asia is very active, we introduce artists that will be evaluated stable for decades, and not just a moment trend.
Mihoko Sakurai
1957

Born in Tokyo
1983
Finished Master's degree in Arts and Literature at Rikkyo University
1983
Entered Gallery Murakoshi.
Engaged in the establishment of a subsidiary company of Gallery Murakoshi, "Hangarou", a gallery specialized in publishing prints of Kayama Matazo. (Consolidated to the parent company in 2008) Published and compiled raisonné of Kayama's prints.
2006
Become CEO of Gallery Murakoshi.
Tokyo Art Club Director
---
Company Information
Name of company :
Gallery Murakoshi Co., Ltd.
President :
Mihoko Sakurai
Address :
Iwatsuki bldg. 8F, 6-7-16 Ginza, Chuo-ku, Tokyo, 104-0061 Japan
TEL :
03-3571-2880/8247
FAX :
03-3574-0159
e-mail : 
g-m

u

rakoshi@nifty.com
URL : 
http://g-murakoshi.com/
Establishment :
March, 1956
Major banks :
MUFG Bank, Ltd., Sumitomo Mitsui Banking Corporation
Commission permission :
Tokyo Metropolitan Public Safety Commission permission number No.796
Antiquary permit number :
Gallery Murakoshi Co., Ltd. Antiquary permit number 301067500796
Occupation : 
Selling, evaluating, and assessment of paintings and art works

Entrust art works to galleries and department stores

Acquisition of appraisal certificate

Holding exhibitions

Participating in events of Tokyo Art Dealers' Association and exhibiting at art fairs

Planning, producing and selling art books

Representing of selling and purchasing at auctions

Participate as a member of Tokyo Art Dealers' Association

Participate as a member of Contemporary Graphic Art Dealers Association of Japan